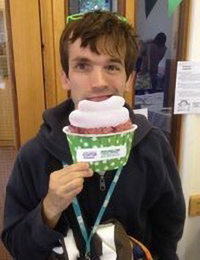 Sawston time bank started in January 2019, with the aim of enabling local people to come together and help each other by exchanging knowledge, services and skills.
One of Sawston's members is Alex (pictured). He's 28 and has learning disabilities. When he moved to the village four years ago, he didn't know anyone. "I felt a bit like Billy no mates as I had no friends living here… but the timebank has helped me a lot to make more friends," he says.
Pam and Mike, a married couple in their late 60s, both have health and mobility issues. They needed help in their garden so they posted a request to time bank, and Alex earned time credits by helping them. As they worked together, Alex, Pam and Mike realised that they enjoyed spending time together. They arranged to meet up for dinner or a drink on a more regular basis and a friendship developed. But without the time bank, Alex would never even have known that Pam and Mike lived around the corner.