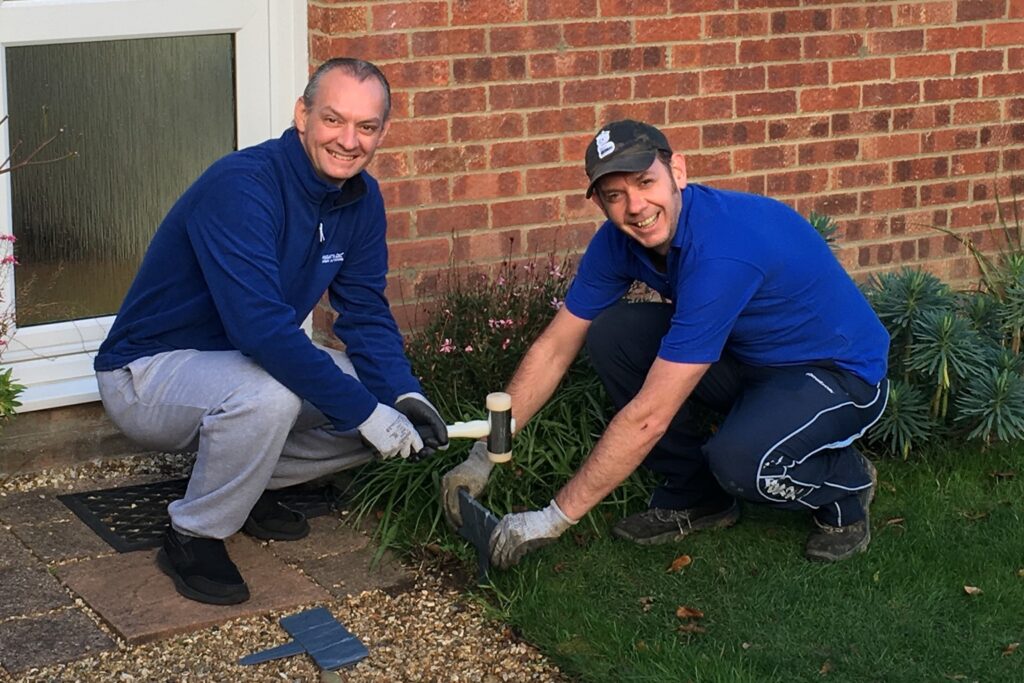 Steve and Mark are friends, both working at Stansted Airport, and sharing a flat together. They found out about Time Bank Uttlesford through their Airport Community Team, which looks for ways in which the airport can help out in the community. Steve has been involved in quite a few gardening exchanges during the Covid 19 pandemic while being furloughed from his job at the airport.
Time Bank Uttlesford's broker Tessa says, "These gardening opportunities have been hugely beneficial to both parties involved; as people have been stuck at home, unable to work and with shops, pubs, and gyms all closed, these exchanges give valuable social, health and wellbeing opportunities to the Time Bank members taking part. Stansted Airport have been a member since September 2015 and have been involved in many group exchanges over the past years."
The beneficiary in this case was Jacki, a member of Time Bank Uttlesford since January 2019. Jacki has been very active in the time bank, setting up a seated exercise class which has been a huge success for over a year now. During the pandemic, she had to move to holding an online Zoom class, helping participants to learn about Zoom in the process. She has also been helping out with shopping, prescription fulfilment, leading walks and 'neighbourhood nattering'! It was time she used some of her time credits, so Steve and Mark working on her lawn edging was ideal.
During the afternoon Steve had told her about one of his previous exchanges at a care home, of which Jacki wholeheartedly approved.
"I think it is a very positive thing to do," says Jacki. "It's a great way to show others outside of timebanking what enjoyment one gets out of helping people. The fun those two chaps had at the care home – they really had a ball and were rewarded with tea, cake and very kind words. That's what it's all about!"
"Jacki was thrilled with the result and could not have been happier with such a great tea," explains Tessa. "There was a lot of laughter and merriment and it was just wonderful to be able to be socialising, safely, during these testing and challenging times. The weather, as you see from the photo, was also smiling for us! All in all it was a really uplifting afternoon and we all came away feeling much more joyful and optimistic about everything."
Time Bank Uttlesford has been very busy during the pandemic, as part of the Uttlesford Community Response Team, delivering prescriptions, shopping, telephone befriending and dog exercising for many beneficiaries. "We've been gradually exploring the Zoom world as well and, being part of the Essex Time Bank Network, are part of the Friday afternoon T@3 Zoom sessions," says Tessa.